CNC Metal Shaping/Forming Services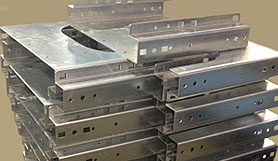 G & M Metal Fabricators offers precision CNC metal forming utilizing cutting edge numerical control systems with press ratings of 20.5 to 33 tons at 20 to 40 stations. We can punch, stamp, blank, pierce and form stainless steel, cold-rolled steel, copper and aluminum and provide secondary, stage, progressive and temporary tooling.
We work with a maximum stock thickness of .125" on stainless steel, .187" on cold-rolled steel and .250" on aluminum. On light gauge, we can handle a minimum hole size of .050" and a maximum of 3.75" without nibbling. We offer +/-.004" repeatability between feature centers and punched hole sizes of +/-.0005" not including the blowout.
In addition to the CNC metal forming services, we offer assembly, hardware and finishing as well as in-house quality inspection and compliance with EIA, NEMA and UL standards. We typically require lead times of six weeks, and can produce volumes from prototype to production volumes.
You can find more detailed CNC metal forming specifications in the chart below and can contact us if you require additional information.
Portfolio
Precision CNC Metal Forming Capabilities
Production Method

Punching
Stamping
Blanking
Piercing
Forming
Tooling

Secondary
Stage
Progressive
Temporary
Equipment Capabilities

Numerical Control Systems
Press Rating

20.5 to 33 tons
Stations

20 to 40
Materials

Stainless Steel
Cold Rolled Steel
Copper
Aluminum
Stainless Steel Maximum Stock Thickness

.125 in
Cold Rolled Steel Maximum Stock Thickness

.187 in
Aluminum Maximum Stock Thickness

.250 in
Maximum Length

78 in
Maximum Width

48 in
Minimum Hole Size (Light Gauge Only)

.050 in
Maximum Hole Size (Without Nibbling)

3.75 in
Between Feature Centers Repeatability

± .004 in
Sheet Edge to Punch Feature Repeatability

± .007 in (≤ 16 gauge)
± .011 in (> 16 gauge)
Punched Hole Size (Not Including Blowout)

± .0005 in
Additional Services

Assembly
Hardware
Finishing
Quality

Inspection Department
Additional Products

Consumer Ready Packaging and Labeling
Custom Rack Enclosures
Fiber Optic Chassis
Circuit Board Chassis
Electronic Displays
EIA Enclosures
NEMA Rated Enclosures
UL Rated Products
Seismic Rated Racks
Light Electronic Assembly
Production Volume

Prototype to Production
Lead Time

6 weeks